Ace History
The beginning of one of the most successful franchises.
1924
•
Four hardware shop owners unite to start Ace Stores, Inc.
1931
•
Ace Stores, Inc. officially changes its name to Ace Hardware Corporation.
1940
•
By the end of the 1940s, Ace Hardware Corporation is supplying 133 Ace stores in seven states.
1959
•
Ace celebrates its 35-year anniversary with sales of $24.5 million and 325 stores.
1963
•
Ace begins to expand into the southeastern and western states.
1975
•
With stores in nearly all 50 states, Ace expands internationally, opening a store in Guam.
1985
•
A retailer ordering masking tape at a store in Michigan pushes Ace past $1 billion wholesale.
1994
•
The "New Retail Age of Ace" is launched to battle the "big box" chain hardware stores and help ensure the company's growth for years to come.
2006
•
Wholesale sales reach 10-year highs and the bottom line exceeds $100 million for the fourth straight year.
2013
•
Ace's Clark+Kensington® semi-gloss and satin paints are ranked No. 1 by a leading consumer magazine.
2019
•
12 out of 13 years ranked "Highest in Customer Satisfaction" by J.D. Power*
The Results
Ace Hardware continues to see robust growth year over year with increased Ace Rewards members, increased revenue and adding more Ace Hardware franchise locations worldwide.
Our Values
Each day, we are committed to providing helpful and superior customer satisfaction in the communities we serve, revolutionizing the independent segment of our industry and being the #1 hardware distributor in the convenience hardware industry. We're dedicated to being the best provider of products, services and operating methods to convenience hardware retailers.
Winning
In business, we keep score with money, which means we get paid to perform. To do that, we must compete and win and have a lot of fun doing it. At Ace, we win with and through people, for helpful is our weapon in the world.
Excellence
Excellence honors God and inspires people. We aspire to be the best, to continuously improve and to inspire others by giving the team our very best.
Love
Love the people, love the work and love the results.
Integrity
For Ace to win, we need to be able to trust each other. And trust will require us to be honest, reliable, caring, of high character and of unquestioned ethics.
Gratitude
We recognize that we are blessed to be in the business of serving others.
Humility
We strive for greatness with a humble, modest and respectful attitude.
Teamwork
We will fight the natural tendency for control and credit in favor of collaboration and mutual success, recognizing that…Together, We are Ace.
Our Vision to be the best, most helpful hardware stores on the planet requires both a differentiated retail strategy and a world-class wholesale strategy
- John Venhuizen
| President and CEO
Our Accolades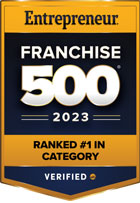 Entrepreneur's Franchise 500
#1 In our category
#7 overall by
Entrepreneur Magazine's Franchise 500 List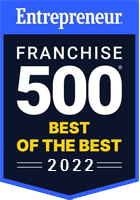 Entrepreneur's Franchise 500
2022 Best of the Best Franchise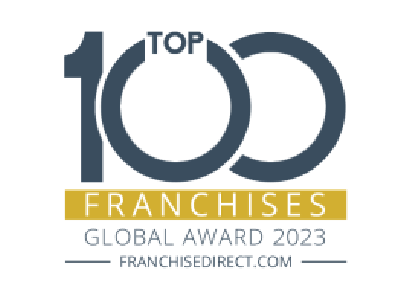 Franchise Direct
#3 on Franchise Direct
Top 100 Global Franchises
Franchise Times
#5 Franchise Times Top 400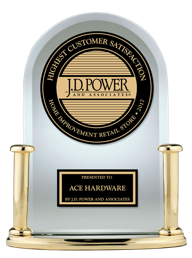 J.D. Power
Highest in Customer Satisfaction with Home Improvement Retail Stores, 16 out of 17 Years*
Best in Class
The Ace brand is a favorite amongst hardware shoppers, even amongst the big box national chains. This is a direct result of our investment in our brand and core values. When it comes to Service, Convenience and Quality, Ace truly stacks up against the competition.
Are conveniently located
Have helpful and knowledgable store associates
Easy to find products I'm looking for
Have quick checkouts
Stands for values that are similar to mine
75.2%
74.4%
59.5%
52.9%
42.1%
61.9%
56.0%
53.8%
46.7%
40.1%
54.2%
48.6%
47.5%
40.1%
30.2%
Ace is the place for...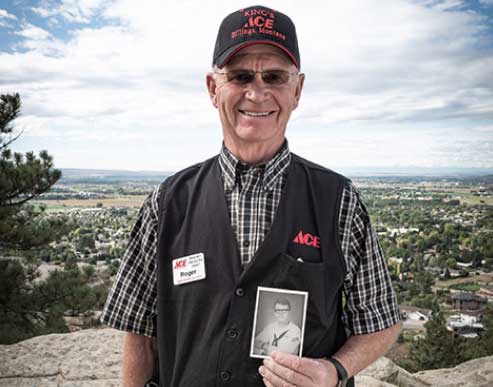 Veterans
As a benefit for prospective Ace retailers who are also U.S. Veterans, Ace Hardware will waive its $5,000 application fee for those who qualify*
*Owner must have a DD214 and own at least 25% of the business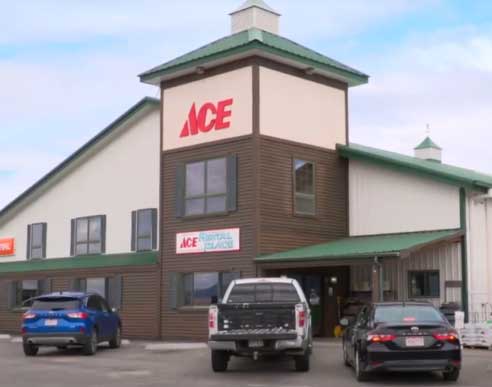 The Coolest Stores
Only a select few Ace Stores receive this coveted recognition annually, based on how well the store differentiates its offerings, services, and culture to meet the needs of the community.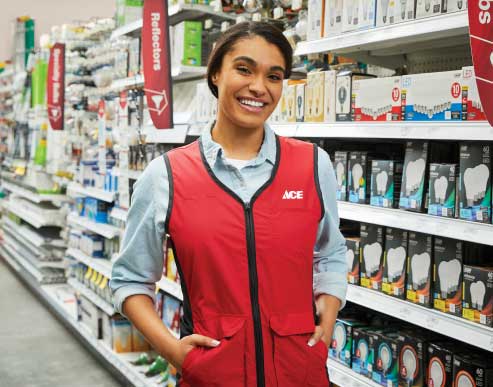 Women in Retail
Ace supports women-owned franchises. Ace Women in Retail allows retailers to participate in a group that shares ideas, hosts guest speakers, and network with fellow retailers.
Power Of The Brand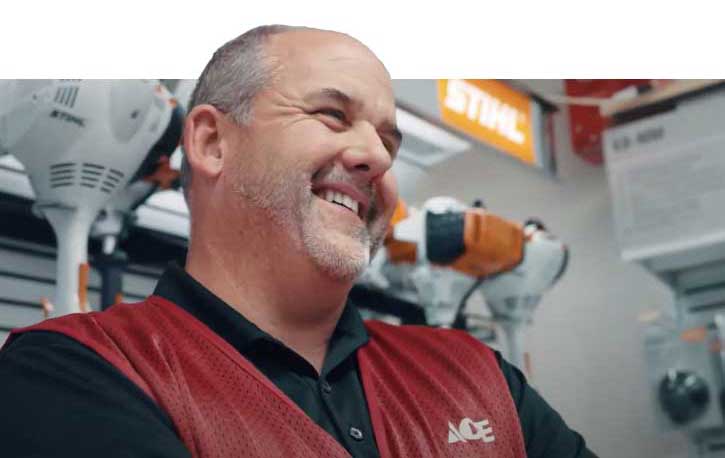 National Advertising Support
Ace spends over $120 Million on national advertising to support our retailers. Local Lift programs are available for retailers to easily customize their messaging to their local market.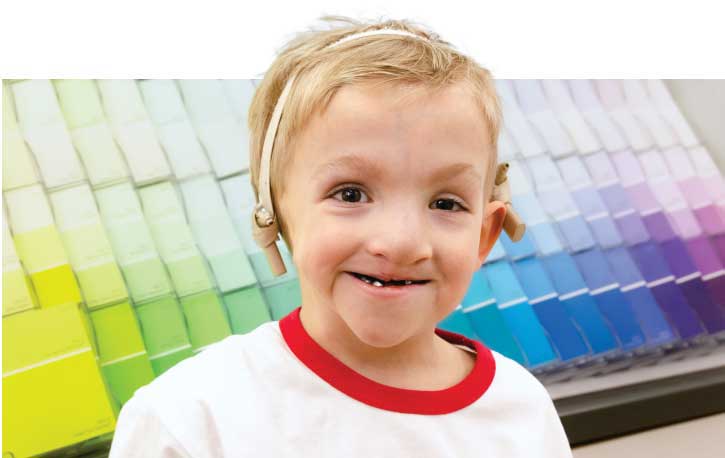 Ace Foundation
Ace has been a proud partner of Children's Miracle Network (CMN) Hospitals and the American Red Cross since 1991, helping to raise over $100 million for CMN Hospitals.
The Power of Rewards
Ace Rewards is the single most effective means of generating increased customer transactions.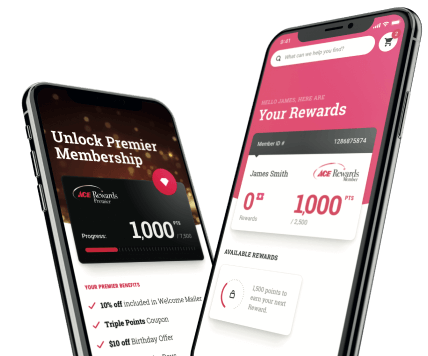 World-Class Loyalty Program
62 Million total Ace Rewards members
$8.6 Billion in Annual Customer-Level Sales
$51.6 Million in Instant Savings
$216+ Million Incremental Sales
3.6 Average Annual Visits per New Member
28 Average Visits per Premier Member